Get the expert
WiFi help you need.
Reliable, Cost Effective, and Secure​ WiFi Network Solutions.
✔
New WiFi Connection Setup
✔
WiFi Network Setup
✔
WiFi Booster Installation
✔
WiFi Signal Extension
✔WiFi Connection Troubleshooting
✔Smartphone Integration
✔Game Console Integration
✔Network Connectivity Support
✔Home WiFi Repair
✔WiFi Support
✔Wireless WiFi Coverage
✔WiFi Network Security
Wireless networking (WiFi) is increasingly being used by businesses as well as home users. More and more residential property owners experience the benefits and conveniences of wireless networking technology. We offer Wireless Installations, Repairs and WiFi Network Solutions for Residential and Businesses. Are you looking for stable wireless for your home? We specialize in wireless networking solutions making every work together seamlessly. Regardless of the environment, the success of any wireless network installation rests on proper setup of the wireless network, with WiFi security and reliability being key.
RESIDENTIAL WiFi
Our wireless home networks are compatible with any WiFi-enabled device, including mobile devices such as smart phones, tablets and smart TVs.
BUSINESS WiFi
Our business WiFi network installations will rapidly increase the speed, coverage, and ensure that all you devices will stay connected at all times.
In today's ever advancing wireless world a solid WiFi signal has never been more important.
If you have a WiFi networking issue, we can diagnose, fix and eliminate problems on your home or office WiFi network. We can connect all your devices together to help you seamlessly integrate the digital world into your home-life, business or organization. Allowing you to share one Internet connection throughout your home, home office or business. We offer the Top Wireless Network Installation Services in the Main Line, PA and Philadelphia.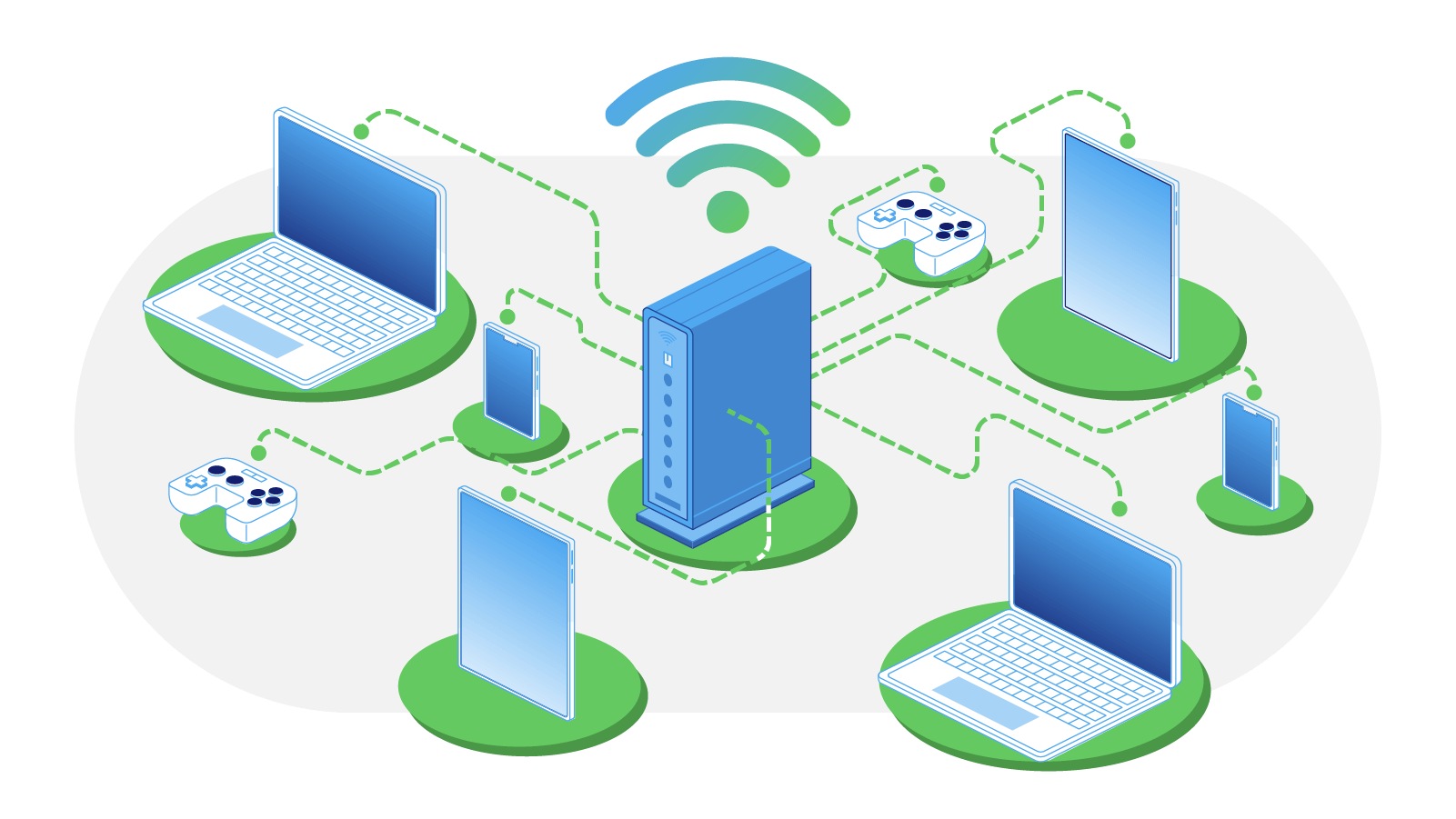 The Importance of Even Wireless Coverage.
---
You need to have your Wi-Fi set up correctly from the get-go to get even coverage. If some members of your family have a perfect connection in their bedroom for that late night Netflix binge, but you're struggling to even get any signal at all in yours, then you don't have an even Wi-Fi connection. Uneven coverage is due to a number of factors. The thickness of your walls can have a significant impact on the speed of your connection, as well as the number of partitions you have.
Adding extra access points to your home or business is one way to even up your connection. Open plan homes and businesses will need fewer access points, while lots of rooms and thick, concrete walls will need more. Knowing how many devices are going connect to your WiFi is essential, as any more than 30 and you will undoubtedly need another access point. Too many devices will decrease your coverage, and older devices can limit performance on the new devices. 30 devices per access point is a good number to aim for, and this includes computers, laptops, smartphones, tablets or Kindles.
Our expertise will bring your home or business WiFi up to speed and ensure you don't get stuck in the past with a slow connection!
We offer a range of home and business WiFi solutions. Call us today for a free evaluation to take the first step towards getting your WiFi up and running. If you need immediate assistance, please give us a call at (610) 496-3408.
The Main Line, Pennsylvania including:
Eastern Main Line, PA
Ardmore, Bala Cynwyd, Bryn Mawr, Gladwyne, Haverford, Merion, Narberth, Penn Valley, Radnor, Rosemont, St. Davids, Strafford, Villanova, Wayne, Wynnewood
Western Main Line, PA
Berwyn, Devon, Malvern, Paoli, Villanova, Wayne
Philadelphia